Published On: June 9, 2022
Author: Elizabeth Korda
Simple, Speedy, and Scalable. We chose this motto to represent ShipSage for a reason. In all our services, we strive to provide efficient, convenient, and adaptable standards for our clients as per their business needs and growth. In order to provide these standards, ShipSage puts in a lot of effort in driving fulfillment forward through five essential pillars. The following article will present these five fundamental facets of our company/services and provide you with insight into what makes ShipSage a successful 3PL provider.
I. Pick, Pack, and Ship
Alongside our order fulfillment, FBA transfer, return and relabel, omnichannel, and customized services, ShipSage provides efficient pick, pack, and shipping standards. All our picking and packing services are completed by our experienced ShipSage warehouse team. Because we have a complementary warehouse management system, our team can efficiently and accurately fulfill the orders received in the system. This process includes basic, bundling, and kitting. Learn more.
These pick and pack services save you (client) on shipping costs, storage space, and time. Our automated inventory system helps you select the services they need, and this, in turn, accurately informs ShipSage of the specifics of the picking and packing process.
II. Return-Relabel Policy
ShipSage provides the service of accepting returns and relabeling options to e-commerce sellers. If the product is deemed salvageable and resalable then we can provide a value-added service by updating labels, repackaging and restocking the item in the warehouse, and the returned item will be made available for all future orders.
Furthermore, unsaleable inventory is handled in three different ways: disposal (if it is not deemed salvageable), donating returned items (if they cannot be restocked but are not damaged), or the items can also be sent back to the seller (in special circumstances). Learn more.
III. Cross-Docking
In fulfillment, there are many cogs at work to deliver streamlined execution of warehouse logistics and supply chain management. Because there is a lot of distribution (inbound and outbound) already taking place, having efficient routines and processes in place is necessary. One of the industry services ShipSage provides is cross-docking: "distribution system of goods, whereby goods are received directly at the warehouse…Goods are not stored in storage but are always ready to be shipped to retail stores."
Additionally, we also offer alternative opportunities that extend beyond the standard definition of cross-docking. Unlike the industry definition, ShipSage also stores merchandise that is received on the inbound. We offer this extension in cross-docking action because we work with various carrier and e-commerce partners who have their own timelines. In the end, this alternative cross-docking service better facilitates the needs of our valued accounts and their scalable business growth. Learn more.
IV. Multi-Warehouse Locations
ShipSage has several years of experience in inventory management and fulfillment services. Our company internally manages and operates four strategically located warehouses in Tracy, California; Bolingbrook, Illinois; Southaven, Mississippi; Allentown, Pennsylvania. At present, we have over 500,000 square feet of warehouse capacity.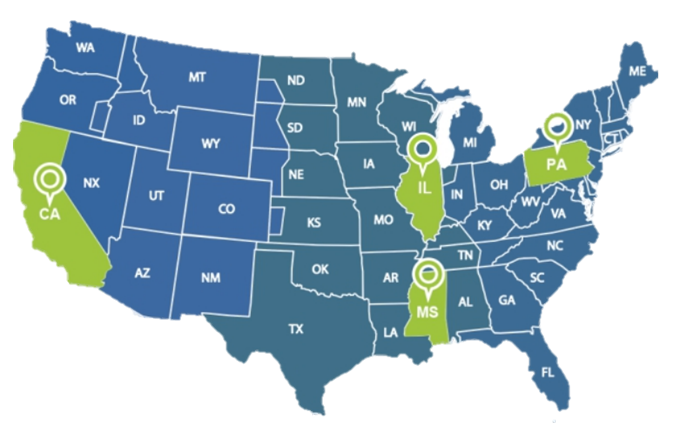 We have chosen to diversify our warehouse location throughout the United States for your benefit. Having ShipSage warehouses available to you in four main regions of the country will allow you to ship us your inventory with less money spent and less hassle. Further, this diversification will help your product be more available to your customers. We believe that targeting the major domestic markets in these regions will get your products to your customers sooner and at a lower cost.
ShipSage provides a variety of services such as FBA and FBM fulfillment, B2B and B2C, warehouse storage, and omnichannel integrations. We have developed partnerships with UPS, FedEx, and other carriers to offer a seamless fulfillment experience.
Goods that are fulfilled in our ShipSage warehouses are delivered to your customer or Amazon fulfillment centers. Our services reduce various costs concerning pick, pack, prep, and shipping. ShipSage can fulfill more than 25,000+ orders per day, and as the order volume increases, additional discounts can be applied. Learn more.
V. Personal Account Managers and 24/7 Customer Service Availability
Here at ShipSage, we have a wonderful team of dedicated account managers and customer service representatives located in the United States. Our account manager's role is to be there for you every step of the way throughout your business growth and to assist you with your business needs. Our customer service team is available 24 hours/7 days a week to provide immediate support in any situation.
One of the areas where we apply great focus is our customer satisfaction rates. At ShipSage, we make customer satisfaction a priority through the application of our industry experience and knowledge by setting clear goals and striving to exceed your business expectations. Leave your fulfillment to us!